Edinburgh Festival pop-up theatre returns
August 3 2015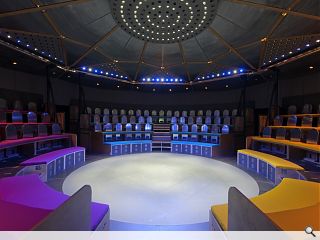 A custom-built auditorium built by Paines Plough, the London-based performing arts theatre, has returned to the Edinburgh Festival.
The Roundabout auditorium is a portable theatre located at Summerhall, which will serve as the centrepiece of the company's 40th anniversary programme.
The venue can accommodate up to 168 people within an 11.5m diameter space which can be assembled in as little as a day and a half by just six people armed with nothing more than an Allen Key.
Use of 'plug and play' technology means there are no visible lighting units or speakers anywhere in the room, with 627 individual LED rooftop light fittings capable of projecting images and six ceiling speakers facing the back wall to reflect sound back into the space.
The Roundabout was built and developed by Factory Settings with design work undertaken by Lucy Osborne and Emma Chapman - in collaboration with Charcoalblue and Howard Eaton.
Photography by Paul Zanre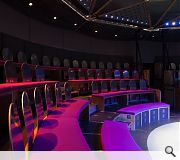 Seating is built from plywood with aluminium seating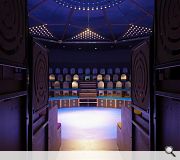 The entire auditorium weighs up to six and a half tonnes
Back to August 2015