Architectural design contest launched for Scenic Routes final phase
July 31 2015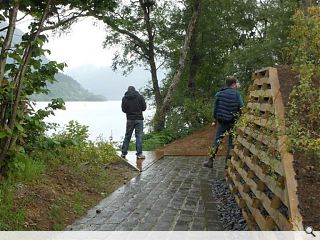 An architectural design competition has been launched inviting young architects within five years of completing RIBA Part II or landscape architects within five years of attaining graduate status to design one of three new installations.
This will constitute the final phase of the
Scenic Routes programme
and encompasses three roadside sites; one site to the north of Fort William and two others within the Cairngorms National Park.
Entrants will be invited to draw up conceptual plans for demonstration projects at these locales utilising innovative design and construction techniques to bolster tourism.
Shortlisted entrants will then be invited to participate in a second stage in which the designs will be developed in greater detail to ensure they are buildable within the available budget.
Previous winner Ruaridh Campbell Moir, who designed a viewpoint overlooking Loch Lubnaig, said: "A combination of the harsh economic climate, fewer potential commissions and an unbuilt portfolio of works all but slams the door shut on many young architects and landscape architects.
"As competitions go, it (Scottish Scenic Routes) has been very inclusive and also fair to the entrants by recognising the time and resources required by designers in order to produce a submission."
A full brief and conditions will be published on Monday 10 August by the
Construction Scotland Innovation Centre
.
All three structures will be completed by March 2016.
Back to July 2015