Home run for Tradeston with giant 398 flat scheme
July 16 2015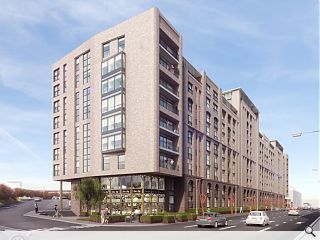 Plans have been submitted by Bosunstone for a
large mixed-use development in Tradeston, Glasgow
, replacing existing warehousing with 398 flats and a landscaped amenity space.
Rising up to 11 storeys the ICDP Architects designed scheme will give all flats a dual aspect and/or access to private balconies, together with an active frontage to Cook Street in the form of an 'arcade/galleria' intended to honour the historic industrial grid.
Two tones of brick will be used for a rusticated base plinth and mid sections with a high pressure laminate cladding and opaque glazing used for a penthouse level
In their design statement ICDP said: "Instead of forming a building with an enclosed courtyard, a single building form with wings folding towards the rear of the site allowed a number of distinctive courtyards to be formed which would let sunlight from the South to penetrate the development whilst providing the dwellings with open views out of the site.
"Due to the scale of the development and the fact that southern side of the scheme would be highly visible from the railway line and motorway there would be no traditional 'front' and 'rear' elevations; therefore each 'bookend' block is designed to have a distinctive form to help generate a sense of place."
Walking and cycling routes will be cut through this block to link with West Street.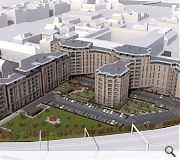 A row of two-and-a-half storey rounded arches will run along the Cook Street elevation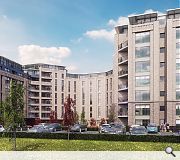 Dentil brickwork detailing will be employed at parapet level, delivering a sense of depth with indented and projecting bricks
Back to July 2015