Strathclyde & ESALA students take top honours at architecture awards
July 17 2015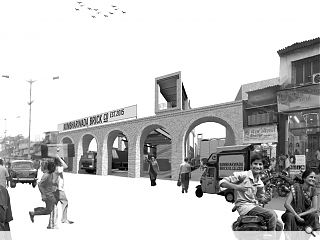 Students at the University of Strathclyde and ESALA have won top honours at the Scottish Student Awards for Architecture with respective designs for a sustainable brick making company in Mumbai and a community hub in Dalmarnock.
Neal Whitaker received a RIAS Rowand Anderson Silver Medal for best Scottish student for his industrial design that sought to deliver social justice through architecture.
Jordan McCrae meanwhile gained recognition as best 3rd year student for a 'crisp, visually alluring' intervention in Glasgow's east end.
A+DS deputy chair Graham Ross commented: "A+DS aims to support emerging practitioners and these awards, and the supporting exhibition, allow the profession and public to see the high standard emerging from our schools of architecture."
All award winning and shortlisted work is now on display at The Lighthouse through to 23 September with a full list of winners (including commendations)
available to view on the A+DS website
.


2015 Winners in full:
The Royal Incorporation of Architects in Scotland Rowand Anderson Silver Medal for best 5th year student
Winner: Neal Whitaker – University of Strathclyde
The Continuing Story of Kumbharwada
"This is a humanitarian thesis, a manifesto for local empowerment. While the developed architectural forms are well beyond mere functional requirements, this is an enlightened and sophisticated expression of a big ambition. The proposition is that social justice be delivered through an accomplished, architectural approach."
Architecture and Design Scotland Award for Best 3rd Year Student
Winner: Jordan McCrae – ESALA
Civic Framing + Flows
"A thoroughly appropriate project for this context, underpinned by a strong strategic approach. Crisp, visually alluring, drawings articulate the idea and its development superbly well. This is an extremely accomplished and well resolved scheme."
Architecture and Design Scotland Urban Design Award
Winner: Neal Hemingway and Vincent Hon – University of Strathclyde
VIA CAMBA: Public Infrastructure for social change
"There is clarity and confidence in the depiction of this strategy for urban transport nodes. This scheme, for a densely inhabited barrio within a South American city, has a social conscience, encouraging patronage of public transport, demonstrative of economic good sense and the reinforcement of social cohesion."
Architecture and Design Scotland Sust. Award for Sustainable Design
Winner: Robert Hebblethwaite – ESALA
The Churchill Engine
"The project fuses a robust, well-researched, technical argument with a focus on local economic benefit. Different scenarios are tested towards a solution which is very much focussed on community in its emphasis. Well-drawn and clearly expressed, the technical arguments are well made."
The Royal Incorporation of Architects in Scotland Andy MacMillan Drawing Award
Winner: Holly Gardner – Mackintosh School of Architecture
'Impluvia on Fischerinsel'
"A consistent and cohesive portfolio of work. These extremely atmospheric drawings demonstrate a mature approach and convey a strong personal architectural identity.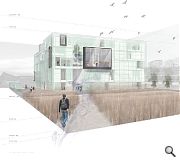 Jordan McCrae won plaudits with Civic Framing + Flows
Back to July 2015