Buchanan Galleries expansion grinds to a halt
July 3 2015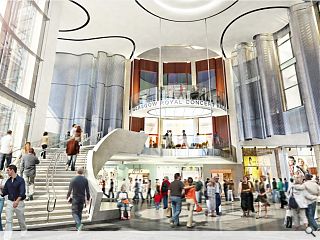 A £400m extension of Glasgow's Buchanan Galleries has been thrown into doubt, just as construction was about to get underway on the giant scheme, after mall owner Land Securities announced that the scheme was being put on hold to allow alternative designs for the revamp to be drawn up.
In a statement the developer said: "We are not currently pursuing the existing plans for the extension of Buchanan Galleries, due to an increased level of risk generated by the simultaneous delivery of the Edinburgh Glasgow Improvement Programme (EGIP).
"We will continue to work on our plans to extend Buchanan Galleries, as Network Rail delivers EGIP over the next 18 months."
The abrupt decision to bring the
BDP master plan to a halt
comes just four months after city planners gave the project their blessing in the face of impassioned opposition.
Back to July 2015