Townhead student housing doubles up
July 3 2015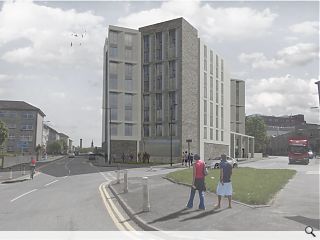 Raphael Property Investment has tabled proposals for a
420 bed student housing development
at the junction of St Mungo Avenue and St James Road, Townhead.
Designed by ICA Architects the property will sit on the site of the former Martys Church, opposite the new City of Glasgow College building and will be subdivided into two distinct blocks of varying height flanking a colonnaded shared access space with a 'tower' element emphasising the corner.
Featuring ground floor amenity spaces and a central landscaped courtyard the primary elevations are detailed by a pre-cast concrete grid with set-back brick infill panels.
In their design statement ICA stated: "The architectural language is classical in nature with strong and structured lines braking up the horizontal and vertical planes. A series of layers are used with brick and precast cladding which produces a depth and complexity to the elevation.
"The buildings are connected with an area of brick which forms the back wall of the courtyard. Small windows puncture the concrete façade to provide light into the corridors of each floor."
Graham Construction are currently on-site with a
neighbouring block further along St James Road
.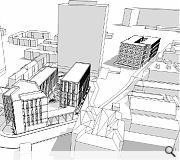 ICA are currently on site with a second scheme just yards away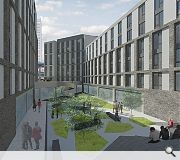 Occupants will have access to a shared courtyard space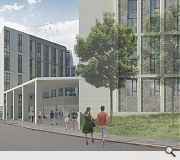 The scheme is designed to bridge the gap between the new college campus and residential area
Back to July 2015