Ryder to lead re-birth of Art Deco Glasgow cinema
July 1 2015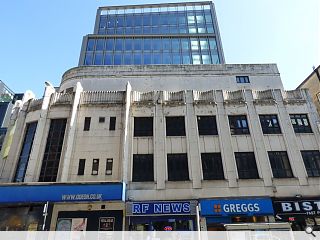 Ryder Architecture is to lead the development of architectural proposals for an
A-listed Art Deco cinema on Glasgow's Renfield Street
following its sale by Duddingston House to Carrick Properties.
This will see external fabric repairs carried out from September subject to listed building consent with a second phase of works following thereafter in January 2016 to convert the building to an unspecified new use - subject to planning approval.
In their
conservation statement
Ryder noted: "… much of the upper façade remains intact today although the ground floor façade has been much altered over the years and its original detailing has been lost.
"The future proposal will seek to create a greater degree of opening to the ground floor centred around the 'balcony exit 'and the adjacent 'poster recess'."
Essential stonework repairs will see eroded material repaired and replaced, alongside a power wash and vegetation removal. An 'unsightly' entrance canopy will also be supplanted with one matching the proportions of the 1930's original.
A full planning application is expected later this month.
Back to July 2015