Edinburgh's High School Yard Steps re-open
July 1 2015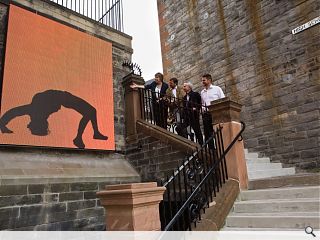 A Malcolm Fraser initiated project to re-open an historic flight of stairs in Edinburgh's Old Town has been marked with a new art installation by Callum Innes.
The High School Yard Steps connect Cowgate to High School Yards, forming a key component of the recently completed Edinburgh Centre for Carbon Innovation, but has been closed since 2003.
Newly spruced up with refurbished railings, paving and new security gates the stairwell incorporates an infrared camera to tracks the motion of pedestrians as they pass, projecting their silhouette onto an LED mesh screen above, which reveals a hidden rise of stairs.
Fraser said: "Re-opening the High School Yards Steps, up to Surgeons Square, where the University has created the Edinburgh Centre for Carbon Innovation out of the old Royal High School, restores an essential connection to a once-neglected corner of Edinburgh's Old Town. History and connectivity are reinvigorated, and Callum Innes' artwork brings light, colour and movement to the climb. This is art that celebrates life and community, bringing beauty, drama and safety to the Steps in one simple move."
The stairs were brought back to life through collaboration between City of Edinburgh Council, Edinburgh World Heritage and the University of Edinburgh.
Back to July 2015