Edinburgh's India Buildings set for fresh lease of life
June 29 2015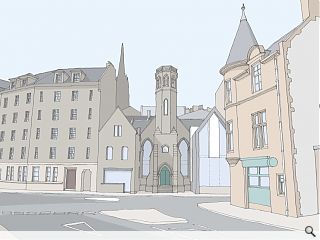 Jansons Property have held a public consultation into a £40m plan to convert a number of historic properties on Edinburgh's Victoria Street into a four star hotel.
ICA Architects have been brought on board for the build which will see a 240 bed hotel carved out within the B-listed Cowgatehead Church, India Buildings and adjoining C-listed tenement, as well as a new build structure to the rear.
In a statement ICA said: "The efficiencies of a new build development on the vacant land will allow for a less intrusive approach to the redevelopment of the listed buildings on the site, respecting the importance of each individual buildings and the scale and mass of the surrounding buildings.
"The principle opportunity is to utilise India Building's atria space with its decorative balustrades and oculus together with finely proportioned rooms to create a high quality 4* Hotel with a unique character and identity that could only exist in Edinburgh. There is a great opportunity to improve accessibility and permeability by creating new closes and bring existing disused closes back to life, turning some of the Old Town's neglected and closed off areas into vibrant public spaces that residents and visitors want to spend time in."
Discussions are ongoing with Leonardo Hotels to occupy the venture with work likely to commence early in 2016 pending the necessary planning approvals.
A clutch of bars, restaurants, cafes, retail and commercial spaces would also be built fronting a new square and pavilion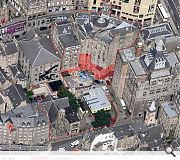 A substantial back court area will be opened up with new pends and closes
Back to June 2015