Stirling Council commence work on Cowie Primary
June 29 2015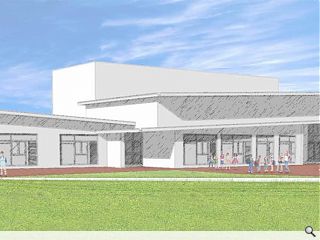 Stirling Council has commenced work on a new
AHR designed primary school within the village of Cowie
, earmarking it for an August 2016 intake of pupils.
Both the school and nursery will have their own dedicated entrance within the build with capacity for an additional two classrooms to the north should population pressure demand it. Two central halls offering space for sport and assembly will be opened up for community use out of hours with the option of combining both for important events.
In their design statement AHR observed: "High quality rustic facing brick is proposed for the nursery and teaching wings to create a warm and contemporary appearance.
"For the large and upper level areas and volumes we are suggesting a large manufactured panel system (large façade of the dining hall and main entrances) for example – the Aquila Dune panels (or similar) might create a modern face to the main massing of the building, the 'pulled out' areas of the massing have been finished in Equitone Natura panels to give a sleek modern touch.
"This material might also be used for the main halls and form an inviting edge to the entrances and main hall block."
The £6.4m St Margaret's Primary & Cowie Village Nursery is being built by Robertson Construction.
Back to June 2015