Helensburgh public realm makeover unveiled
June 25 2015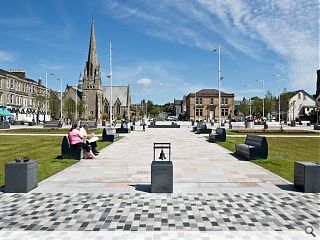 A £7m makeover of Helensburgh town centre has been unveiled by Austin-Smith:Lord, revamping the seaside destination with a new esplanade, public square and outdoor museum.
The public realm work is centred on a new look Colquhoun Square which has been reimagined as a civic space capable of hosting community events and incorporating an 'outdoor museum' exhibiting artwork and artefacts from local history.
These are contained within a series of bollards designed to regulate traffic flows but which contain items of interest embedded within in order to meet residents desire for more museum space.
Additional seating, widened pavements and high quality surfaces have also been installed as part of efforts to promote outdoor activity whilst encouraging greater footfall between the town centre and the seafront.
Graham Ross, project partner at Austin-Smith:Lord commented: "Helensburgh is one of the finest examples of a planned town in the UK. It was an immense challenge to be asked to redefine the principal public spaces of the historic, seaside town centre. Over the last five years we have sought to address the issues in collaboration with our project team colleagues, the Council and the local community with whom we engaged with to create a streetscape that emulates the ambition of the original town plan.
"It was a rare privilege to be asked to design a new civic square, principal streets and a waterfront esplanade in such a location; one that demanded a sensitive design response to create public realm that encourages street life and a convivial, vibrant town centre. Early feedback is encouraging and the provision of high quality public realm, enriched by place-specific artwork that reveal the town's story, should help to mark the next chapter in the regeneration of Helensburgh."
Photography by Keith Hunter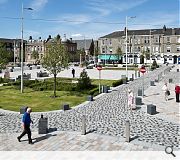 Colquhoun Square will serve as the 'civic heart' of Helensburgh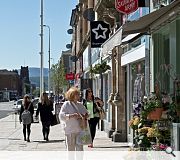 Main streets on the town centre grid benefit from high quality paving and street furniture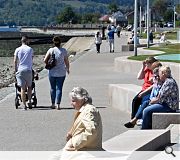 residents were engaged over a 20 month period to inform the design proposals
Back to June 2015