GIA reveal Royston Spire competition winner
June 26 2015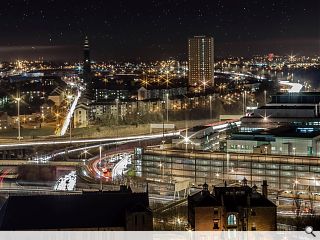 The Glasgow Institute of Architects has named Isabel and Clara Garriga of Holmes Miller Architects as winners of its
Royston Spire design contest
to mark the 150th anniversary of its construction.
Situated at the heart of an area of housing renewal the Victorian landmark is regaining its lost prominence with the demolition of neighbouring tower blocks, the latest of which is scheduled for demolition in the autumn. In tandem with this the Rosemount Community Development Trust sought architects to put forward concepts for a lighting scheme to highlight the spire and four faces of an embedded clock.
In a statement the Garriga's said: "Our concept It's about Time. The 12 light rings act as a working clock lighting up sequentially to signify full times i.e. 1:00, 2:00 and so on, additionally half the ring lights up on the next hour band to signify 30 minute intervals. We feel It's about Time to celebrate the tower 150th Anniversary and to bring attention to the Royston area and its active community."
The five shortlisted teams were David Buchan and Helen-Anne Love; David Tinto; Isabel and Clara Garriga; John Duffy and Ruggero Lancia.
Back to June 2015