Students unveil alternate Aberdeen Harbour plans
June 15 2015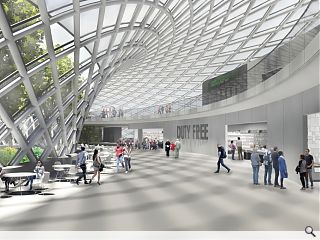 Final year architectural technology students Scott Crighton and Robert Lucas at Robert Gordon University have published alternative designs for the expansion of Aberdeen Harbour, following
publication of a 20 year master plan for the area
.
This would entail creation of a new marine operations centre and ferry terminal for the facility, capable of accommodating large cruise liners.
Course leader Jonathan Scott said: "The proposed expansion to Aberdeen Harbour located at Nigg Bay offers a rich array of opportunity for student projects.
"The first of these is a proposal for a Marine Operations Centre, responsible for the safe piloting and direction of ships into and out of the harbour. For technologists this is an opportunity to understand, develop, appraise and communicate ideas for the technically difficult tall, slender structure.
"For the ferry terminal, the students' designs were required to be contemporary and flexible, with the focus this time on integrating the fabric with a means to power the building and to be as close to zero carbon as possible."
The work forms part of the Scott Sutherland School of Architecture and Built Environment End of Year Show, which runs from 18 to 24 June.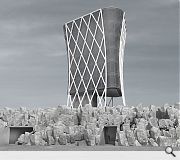 A steel diagrid structure is proposed for the control tower, allowing open plan floorplates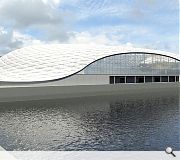 The ferry terminal design has been likened to a rib cage protected by a strong outer shell
Back to June 2015