Clyde Street hotel tower makes way for student flats
June 12 2015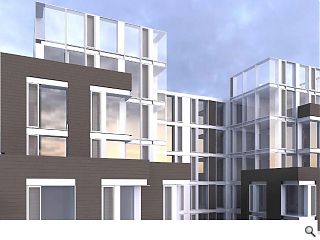 A planned hotel on Glasgow's Clyde Street is to be re-jigged to form 290 student residences in a 17-storey tower under revised plans submitted by London based 21st Architecture.
Plans were first drawn up for 236-246 Clyde Street by the former gm+ad architects in 2007, which will now be reworked by Silk Ltd in light of the changed economic situation.
This sees the massing, height and stepped profile of the original application remain largely unaltered, including the use of bronze anodised aluminium cladding panels, whilst reconfiguring interior spaces for the new usage.
In their design statement the architects noted: "The design is organised to present two vertical elements either side of a recessed light well. Set-backs articulate a series of horizontal alignments with the first creating a strong base with a one storey podium and the next lined to the height of the adjacent building forms on Clyde Street."
A number of
high rise proposals
have emerged for neighbouring plots over the years but none have, as yet, made it out the ground although the developer is confident that this project could be ready for occupation by August 2017.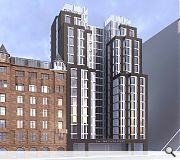 The project will remain largely unaltered from the previous submission
Back to June 2015