RIAS award youngest ever fellowship to Michael Dougall
June 11 2015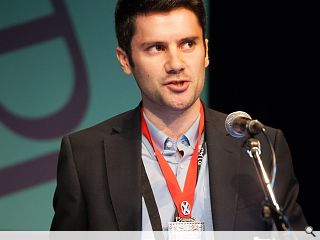 Collective Architecture's Michael Dougall, president of the Glasgow Institute of Architects, has been inducted into the RIAS ranks as a fellow at the age of just 32, making him the youngest ever inductee to be welcomed into the fold.
In doing so the architect's body had to overturn their own bye-law, which stipulates that all fellows must be over the age of 35, to recognise Dougall's role as a community architect, his contributions to the Glasgow chapter and position as an ambassador for the Architect's Benevolent Society.
RIAS president, Willie Watt said: "The RIAS council has the authority to vary the rules in very special circumstances. The council commended Michael's work in involving a whole new generation of architects in the work of the incorporation, helping to strengthen its membership, now the healthiest at any time in its history.
"They were also hugely impressed by his tireless charity fundraising endeavours and his work to make architecture accessible to a much broader public, particularly through his contribution to the brilliant GIA programme for next year's Festival of Architecture."
Dougall was project architect for the recently completed
Cutty Sark Centre, Bellsmyre
.
Back to June 2015