Queensberry Properties launch Edinburgh townhouses
June 10 2015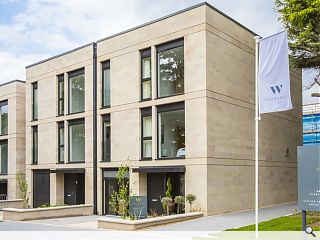 Queensberry Properties and Telereal Trillium have unveiled a
development of 24 townhouses and 57 apartments in Edinburgh's Grange conservation area
, on the south side of the city.
Designed by Michael Laird Architects Woodcroft is finished in stone, zinc, timber and glass with balconies overlooking walled gardens and mature trees. Interior spaces incorporate solid oak banisters, floor to ceiling windows and large living/dining spaces for entertaining
Sam Chapman, founder and managing director of interior design firm Hudson & Mercer, said: "Although the house is brand new and a contemporary design, we wanted to show that actually these properties can accommodate quite a mixed collection of furniture, artwork and accessories. People don't throw away their favourite things because they move, so it's important that we demonstrate that a variety of pieces can fit within this contemporary context."
Hazel Davies, sales and marketing director of Queensberry Properties added "The show home, like all properties at Woodcroft has a wonderful feeling of space and light and boasts the style, presence and quality found in the best international developments thanks to stunning, fashionable designs, which feature the dramatic use of large quantities of glass, and modern, open-plan layouts."
Properties are priced from £270k for a one-bedroom flat up to £1m for a top of the range four bedroom penthouse.
Back to June 2015