Lee Boyd submit plans for Monifieth Church
June 2 2015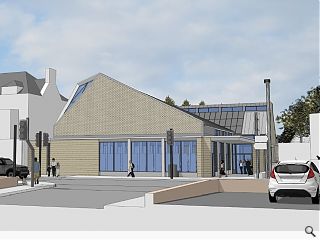 Lee Boyd Architects have
submitted plans for a new build sanctuary and hall for Monifieth Parish Church
following the amalgamation of three kirks within the town.
Plans call for the unlisted South Church on the High Street to be demolished to make way for the new build, which relates to a neighbouring tenement by extrapolation of a first floor horizontal band to a single storey plinth.
This plinth will be clad in ashlar stone with areas of cast stone detailing with twin roof facades above this datum composed of diagonally bedded dog tooth brickwork.
In their design statement Lee Boyd said: "These two main roof volumes are distinct entities set inside the outer plinth line and are not mimicking any adjacent rooflines or roof forms. The sanctuary roof is set on the diagonal of the square space below and creates a roof profile that is deliberately unique in character providing the church with an appropriate identity on the High Street. This character is not overtly ecclesiastical but still suggestive of a large public volume.
"This roof form can be seen in the round as it does not connect with the gable of the tenement, reinforcing the status of the space below and avoiding conflict between new and existing. The internal space between this roof volume and the tenement gable is accommodation for storage and plant that is expressed on the front façade by stepping back at the junction with the tenement corner."
The completed hall will double as a space for community groups.
Back to June 2015