University of Glasgow lines up medical imaging centre for autumn start
June 2 2015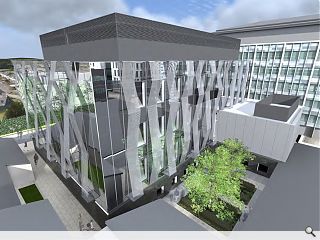 The University of Glasgow is to press ahead with delivery of a £64m
Stratified Medicine Imaging Centre
this autumn, following demolition of an existing clinical building on-site over the summer.
Codenamed Project ICE the facility will be built within the South Glasgow Hospitals campus, taking the form of a glazed box overlain by a woven steel mesh above a base of polished concrete panels.
In a design statement BMJ Architects observed: "A materials palette has been developed to take cognisance of the wider campus and proposed re-cladding proposals at the adjacent Institute of Neurological Sciences (INS), whilst meeting the over-arching desire to provide a unique and distinct facility that is instantly recognizable."
Once built the facility will function as a centre for excellence for research into strokes, cardio-vascular disease and brain imaging.
Back to June 2015