Page\Park lodge plans for Woodside Health Centre
June 1 2015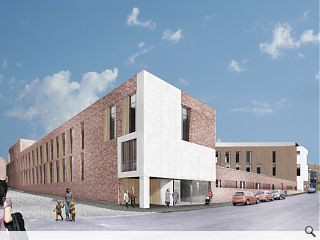 Page\Park architects have lodged plans to build a new health centre in north Glasgow, replacing an existing 1970s facility and drawing together a range of primary and community care services currently scattered throughout the city.
Woodside Health Centre
is situated on a triangular plot fronting Garscube Road on the site of the
former Woodside Primary
the scheme will see each corner allocated a 'gushet' entrance serving the health centre, addiction services and an elderly day care centre.
In their design statement the architects noted: "The building is organised over three floors around an atrium space to the north and an external courtyard space to the south. This forms an 'A' shaped plan.
"The Atrium is the gentle heart of the health centre. It deliberately adopts a curvilinear geometry to soften the character of the space. It is conceived as a soft edged balconied space extending down into the walls of the seating areas and the main staircase which sweeps up to the first floor.
"The roof follows this shape and has an enhanced edge detail to act as smoke reservoir below the glazed upper skin."
A green roof and terrace will cap the build although the latter will be available for use by staff only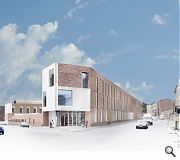 An external private courtyard garden is included at the heart of the elderly day care centre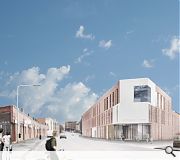 The urban infill will be built out to the street edge
Back to June 2015