Crawick Multiverse readied for Summer solstice reveal
June 1 2015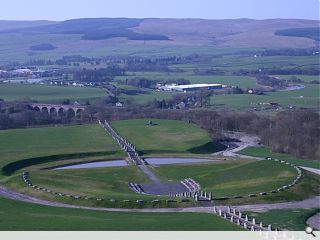 An ambitious piece of land art is being readied to herald the summer solstice this 21 June, with a launch event designed to signal formal completion of the £1m Charles Jencks work.
Crawick Multiverse
is located on a former open cast coal mine in Upper Nithsdale, Dumfries & Galloway, the project is the brainchild of the Duke of Buccleuch with the intention of transforming the 55-acre landscape from a place of industry to public amenity.
Conceived as a network of pathways snaking their way through 2,000 reclaimed boulders the scheme is intended to represent space, astronomy and cosmology through representations of Sun, universes, galaxies, comets, black holes.
Jencks commented: "This former open cast coal site, nestled in a bowl of large rolling hills, never did produce enough black gold to keep digging. But it did, accidentally, create the bones of a marvelous ecology.
"The landscape had to be healed, it had to welcome the nearby communities of Sanquhar, Kelloholm and Kirkconnel, and help restore the locality both economically and ecologically – and so the Crawick Multiverse, a new version of an old scientific idea, was born.
"This work of land art, created primarily from earth and boulders on the site, celebrates the surrounding Scottish countryside and its landmarks, looking outwards and back in time."
The site will be officially opened up to the public on 10 July.
Amphitheatre view taken by Steve Chettle / ARTS UK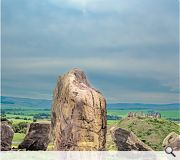 Excavated earth and boulders were used to sculp the monumental piece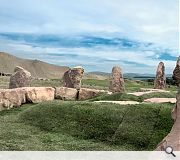 It is hoped that the land form will serve as a tourism magnet for the area
Back to June 2015