Mortonhall memorial garden to move on-site
May 29 2015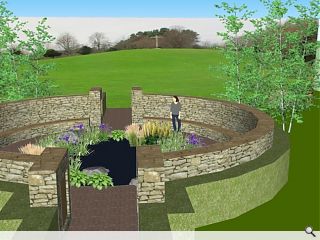 A preferred design for a memorial garden commemorating babies cremated without their parents' consent at Mortonhall Cremtorium has been chosen by families affected by the scandal.
This will see a circular walled garden and water feature built off an existing memorial walkway close to the main chapel and will include beech hedges, birch trees and a stone ball water feature.
Based on the concept of a 'madala' symbol the design seeks to represent the universe and as a symbol for having no end.
Edinburgh City Council chief executive Sue Bruce said: "This was a difficult process for everyone involved but it was important to hear the views of all affected parents and reflect their wishes.
"The walled water feature garden will provide a tranquil area for reflection."
Work will start on the memorial next month for completion by November.
Back to May 2015