Dandara resuscitate huge Clydeside flats plan
May 29 2015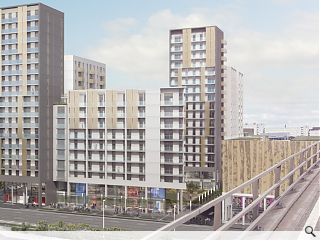 Dandara have resuscitated plans for a
huge mixed use scheme at Glasgow's Cheapside Street
; incorporating 603 flats, 1,616sq/m of commercial space and associated public realm.
Designed by Axis Mason Architects
City Wharf
will incorporate a series of resident's gardens, courtyards and roof terraces overlooking the River Clyde and Kingston Bridge on 1.5ha of brownfield land.
Adopting a stepped profile the scheme will see chequerboard blocks increase in height from the north to an 18 storey riverfront tower and public square. Clad predominantly in pre-cast concrete panels with areas of reconstituted Portland stone the designers have opted for darker, granite coloured, concrete to accentuate corner elements.
Perforated metal panels will be used to clad an on-site car park set within a linear park to the east of the site, intended to act as a buffer to the elevated motorway beyond.
In their design statement the architects noted: "An enhanced concrete finish is proposed at the base two storeys of each building, this will be achieved through creating a distinct pattern or texture in the concrete. This layer of enhancement on the base floors reinforces the datum that is carried through all the buildings. Opportunities also exist to carry the enhanced finish at higher levels of the elevations.
"Recessed areas on the elevations have been expressed through the use of a contrasting precast panel finish and perforated metal panels."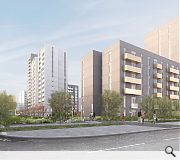 Commercial units will be introduced around the newly formed Anderston Square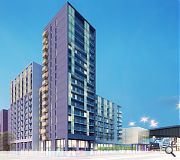 The linear park will extend to landscaped areas between apartment buildings and to space under the Kingston Bridge
Back to May 2015