CSGN target obsolete rail lines for green infrastructure push
May 21 2015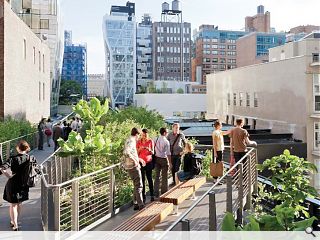 Central Scotland Green Network (CSGN) and Arup have announced that they are to advocate the greening of redundant rail infrastructure in urban areas, taking inspiration from The High Line in New York, Promenade Plantee in Paris and London's Queen Elizabeth Olympic Park.
The Cities Alive initiative will target obsolete infrastructure in the Central Belt which is capable of being retrofitted with green infrastructure to improve local environments.
To this end the CSGN is hosting a green infrastructure conference on 2 June to investigate how these ideas might best come to fruition.
Keith Geddes, Chair of CSGN, explained "At CSGN we are focused on implementing schemes of all scales from larger initiatives through to small projects that add up to a greater whole. Every street tree, living wall or living roof will all help bring nature back into our towns and cities. It would be fantastic if town centre managers and Business Improvement Districts in Scotland could adopt some of Arup's ideas."
The CSGN has been designated a national priority in the Scottish Government's third National Planning Framework.
Back to May 2015