St Peter's Seminary sees the light after 30 years of decay
May 19 2015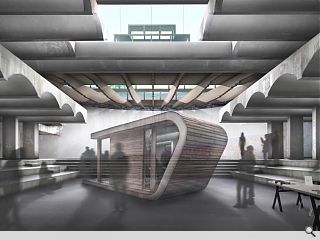 Arts organisation NVA has announced it is to move on-site within days to deliver an ambitious
culture-led regeneration of the former St Peter's Seminary
, Kilmahew, Argyll.
The £7.5m project will see the woodland site closed off later this week to allow a clean-up and renovation of the former seminary to proceed, with the aim of re-opening the iconic building for a specially commissioned light show next spring ahead of full completion by the end of the year.
Avanti Architects, Nord and ERZ landscape architects have been commissioned to draw up the plans, which would see the evocative structure turned into a performing arts venue hosting a range of concerts, exhibitions and festivals.
NVA creative director Angus Farquhar, said: "The best way to describe what we plan to do with St Peter's is to look back at the impact that the Tramway arts centre had when it opened in Glasgow in 1990 with the late 20th-century use of an old industrial space.
"It allowed a lot of large scale work, both national and international, to happen for the first time. I think St Peter's will take its place."
Back to May 2015