Back from the dead £1bn Edinburgh suburb savaged
May 11 2015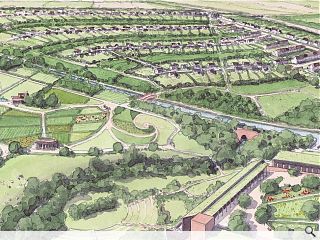 Dormant plans to build upwards of
3,500 homes on Edinburgh farmland
have been savaged by one of the city's leading architects following reports that planners are preparing to back the vision as a means to solving a housing crisis in the capital.
If reports in the Edinburgh Evening News pan-out it would mark an abrupt volte face on the part of the city which had previously refused to back the contentious scheme in its Local Development Plan, but which is now wavering in order to relieve pressure for new homes in Brunstane, Newmills and Cammo.
Commenting on the expected U-turn Malcolm Fraser said: "Our planning system needs fixed, because it allows land speculators to dictate where housing goes – we need it along Edinburgh's Waterfront, to support those communities not currently accessing the wealth of the capital; but they've traded and sweated the profit from that land so need to leave it undeveloped and force us to release cheap farmland instead.
"I am confident that the Land Reform Act going through Parliament will use changes to tax to focus developers on such brownfield, town centre sites, and away from the greenbelt. In the meantime The City of Edinburgh Council must simply apply legislation and not cave-in."
Edinburgh's Local Development Plan is expected to be approved on Thursday.
Back to May 2015