£30.7m Lutton Place student build wins planning
May 8 2015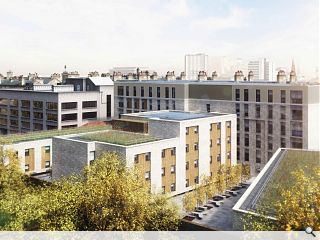 A £30.7m student residential project designed by JM Architects has been approved by Edinburgh City Council, clearing the way for the practice to move on-site within the south side conservation area.
Funded by Crosslane Student Developments the
237-bed Lutton Place
property will offer en-suite studio and cluster accommodation in advance of the 2017 academic year.
This will include flatted accommodation in a street facing five storey block with smaller mews properties to the rear.
In their design statement JM observed: "The massing of development diminishes in height towards Lutton Place. This consideration in massing allows the front façade to relate to the tenement street front of Bernard Terrace while the mews blocks to the rear enhance the neighbourhood character to Lutton Place.
"The reduced scale of mews blocks to the rear, coupled with landscaped green roofs and private courtyards will provide a more positive aspect than the existing car park and industrial units. There is an accompanying day lighting study which further supports the building complies with CEC's guidance for over shadowing to neighbouring buildings."
In deference to its setting the scheme will make use of natural stone with a continuous white precast string course at every level intended to reinforce the horizontal rhythm of the design.
Back to May 2015