Work gets underway on prototype 'Curriculum House'
May 8 2015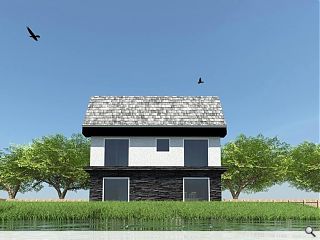 BRE and New College Lanarkshire have begun work on a student designed prototype family home designed to demonstrate how future housing can be built and showcase new technologies.
The Curriculum House is being built at the
BRE Innovation Park in Ravenscraig
using a timber kit, flexible construction which can be assembled on-site by the students themselves within a matter of days.
Incorporating low-waste construction methods and demountable partitions the scheme will be one of the most highly insulated builds in the country.
Michael McGuire, course leader of HND Architectural Technology at New College Lanarkshire, said: "We are delighted that our students' design for the Curriculum House is being realised here in the heart of Ravenscraig and so close to our Motherwell Campus. The project has reinforced to our students that what they are learning is giving them the knowledge and skills required to be successful in the architectural industry. This is an opportunity of a lifetime to create a unique and exciting project that should not only showcase the skill and motivation of our students and staff to the rest of the UK, but also worldwide."
Once complete the house will serve as a teaching aid and demonstration laboratory for new technologies as well as long term performance monitoring.
Back to May 2015