Hospital 'home from home' for the families of sick children takes shape
May 7 2015
The latest addition to the
South Glasgow University Hospital campus
is taking shape in the form of Ronald MacDonald House, a 'home from home' for the families of children receiving treatment at the hospital.
Built by CCG and designed by Keppie
Ronald MacDonald House
consists of three pale brick residences beneath traditional slate roofs arranged around a courtyard arrivals space.
The £3.4m project replaces an existing facility at Yorkhill for the charity and is designed to adopt a domestic character whilst connecting visually with neighbouring tenements.
Work is expected to complete this summer.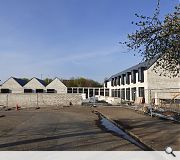 A landscaped courtyard will offer a tranquil oasis for residents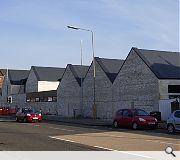 The scheme turns its back to Govan Road
Back to May 2015