UK spaceport bid launched by Campbeltown Airport
May 5 2015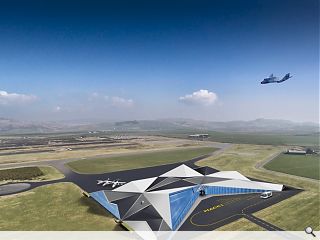 Machrihanish Airbase Community Company (MACC), owners of Campbeltown Airport, has released concept visualisations prepared by Doug James of Mode Design for a proposed spaceport at the former RAF base.
Led by Discover Space UK the bid team cite inherent advantages of a Campbeltown bid, notably a 3,000ft long runway, low population density and community ownership.
Campbeltown is amongst
five locations to be shortlisted for the launch pad
, going head-to head with Prestwick, Stornoway, Newquay and Llanbedr to land the out of this world prize.
MACC chairman and Discover Space UK director Tom Miller, said: "Machrihanish has a long-history with space flight, going back to the launch of NASA's Space Shuttle in 1981.
"Machrihanish was an emergency landing site for the shuttle in Europe, with our 3,049m runway long enough to welcome the shuttle and get it airborne again aboard a Boeing 747 Shuttle Carrier Aircraft.
"Then in 2009, the last time the UK looked at establishing a spaceport, Virgin Galactic said Machrihanish was one of its preferred sites for the UK spaceport."
The UK government aims to have an operational spaceport by 2018.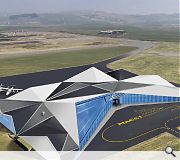 Budding space tourists will be asked to pay up to £200k per trip
Back to May 2015