University of Stirling pools data on all 479 Scottish towns and cities for planning resource
April 30 2015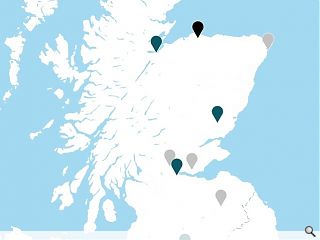 The University of Stirling has published a new planning resource offering planners and the public the chance to browse data on each of Scotland's 479 towns and cities.
Understanding Scottish Places
contains 36,000 items of searchable data charting everything from health, education and employment statistics to shop numbers.
Tool co-creator professor Leigh Sparks of the University's Institute for Retail Studies commented: "This unique Scotland-wide resource is of huge significance for anyone, from policy makers to business owners, wishing to improve their town and town centre.
"It is the first time we have an understanding, on a consistent and comparable basis, of what Scottish towns look like. Questions such as how our towns interact within a network - whether residents travel far to study or if services are provided to non-residents - can be addressed with the data provided.
"This invaluable tool will help stakeholders better understand the functions of our towns and cities, and will be a great springboard for developing future policies and plans which serve to strengthen Scotland's places."
The online resource was compiled in collaboration with the Carnegie UK Trust; Scotland's Towns Partnerships and the Centre for Local Economic Strategies.
Back to April 2015