Spring edition of Urban Realm magazine available now
April 10 2015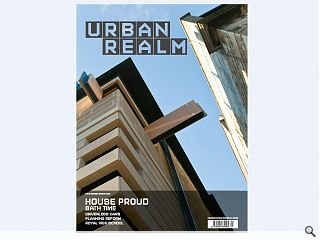 The spring edition of Urban Realm magazine is now available to subscribers, showcasing a range of high-profile schemes from Gareth Hoskins' The Royal High School in Edinburgh, at once a model for how to run such events well and an example of the continued disconnect between design professionals and the people they serve.
Elsewhere we take a look around Richard Murphy's new home on Hart Street, a build which challenges preconceptions of what is achievable on a World Heritage site and investigate the possible impact of driverless cars on our cities.
Urban Realm editor John Glenday said: "2014 might have been an anti-climax for 45 per cent of the country but the political climate fostered over the course of that year lives on in an increasingly vocal public who are not afraid to make their opinions known, as we found out in city streets up and down the country during this year's Carbuncle Awards.
"This is manifesting itself in renewed activism at a local level as campaigners target particular schemes for protest, a febrile environment we explore further with an investigation into accountability in the planning process.
"As ever good results are less about the decision making process than the people making the decisions and Urban Realm will position itself at the heart of that debate in the year ahead."
To secure your copy now you must
subscribe to Urban Realm magazine for 2015
.
Back to April 2015