Twin Dennistoun flats scheme to restore urban grid
April 10 2015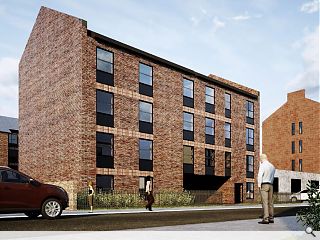 Mast Architects and Cube Housing Association have
submitted plans for the construction of 27 new build apartments
contained within two separate blocks on Marne and Meadowpark Street, Dennistoun.
Built to slot into the existing grid iron road layout both schemes will utilise a central courtyard area for parking , stepping down in height from neighbouring tenement blocks owing to lower floor to ceiling heights.
In their design statement Mast said: "We have sought to provide appropriate articulation to the main facades to avoid the block becoming too dominant in its immediate area. The 'gables' of this building are located facing south for future developments within the street block.
"The materials have been selected for their robustness, ease of maintenance and resistance to vandalism, but still providing a good quality aesthetic finish. The client is keen to promote the use of high quality materials to improve visual and residential amenity while sympathising with the surrounding red sandstone."
Work on site is expected to start by spring 2016.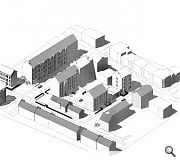 Both schemes will face each other across a shared courtyard space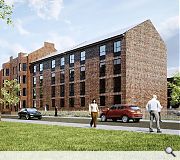 The Meadowpark Street elevation of the planned development
Back to April 2015