GSoA appoint Page\Park to oversee Mack rebuild
March 31 2015
Glasgow School of Art has handed the design commission for a
rebuild of the fire-damaged Mackintosh building
to Page\Park after the practice saw off competition from Avanti, John McAslan + Partners, LDN and Purcell to win the high profile job.
The practice was chosen to lead the design team following submission of presentations by all five shortlisted firms, during which Page\Park exhibited a scale model of one of the bay windows in the Mackintosh library.
Detailed decisions will now be taken as to the extent and nature of works to the building, with work expected to begin in spring 2016 for completion by 2017/18.
Outlining some of the discoveries he'd made in the course of a number of studies following the fire David Page said: "What's remarkable about the columns of the original library is that when you look at that you think it's one piece. But it's actually made of eight pieces put together behind a masking plate, Mackintosh disguised the fact he'd built it economically.
"What staggered us and which would never have been understood previously is that all those pieces are nailed together just like a garden fence.
"Our conclusion of this analysis is we think we know enough to do a successful reconstruction of this room. It's up to others to determine whether it should be done or not."
Although decisions as to how slavishly the rebuild should match the original have yet to be taken it will incorporate the latest technology and building systems... including a mist suppression system which would be active in the rebuilt library from day one.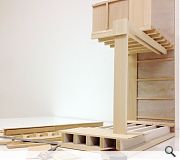 Page\Park's scale model of a library bay
Back to March 2015