Fife Council progress 7N Inverkeithing master plan
March 31 2015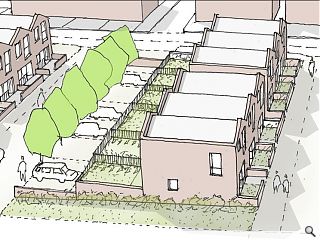 Kingdom Housing Association has been chosen by Fife Council to deliver 200 homes in the Fraser Avenue area of Inverkeithing.
A four year, £15m master plan is being drawn up by 7N Architects in consultation with the local community. It calls for the demolition of 234 existing homes in 39 separate blocks of flats to make way for the mix of terraced properties and townhouses.
In a statement 7N Architects said: "The local community have endorsed in principle the idea of realigning the existing street to create a fresh start for Fraser Avenue, allowing a new central 'village green' space to be formed as a new heart for the housing development as well for the wider community. Branching off from this space are two new streets, which will give access to small terraces of housing at a more intimate scale from the current blocks of flats.
"These new terraced street will weave into the wider context, creating physical connections across the development. The preference is to have a mix of house types and sizes with each new home having its own private front door and garden. The existing local shops are to be reinstated but relocated to the top of the street, reducing their impact on the new residential development whilst connecting more directly with the High School and wider community."
The first phase of site clearance is expected to get underway in early 2016 allowing the first new homes to be built.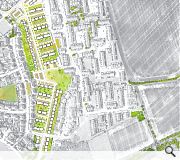 Existing streets will be realigned for the master plan
Back to March 2015