Construction gets underway at Maggie's Forth Valley
March 17 2015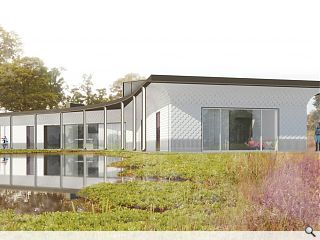 Cancer care charity Maggie's has moved on site at its latest care centre, a Nord designed facility within the grounds of Forth Valley Royal Hospital, Larbert.
A loch-side setting has been chosen for the cast concrete build, incorporating a series of rooms in a collonaded pavilion wrapped by a verandah.
In their design statement for
Maggie's Forth Valley
Nord noted: "The majority of the building programme is on an accessible ground level with a, 'single room' growing space and 2 quiet sitting areas on the upper floor. There will be future provision for a lift, which might have to go in at some point, but we're keen for the building to conceptually read as a single storey solid and robust element with a very light glass pop-up on top.
"There will be planting around and inside the glass pop-up to bring some of the landscape into the building along with an external roof terrace area which will help to soften and deconstruct the roof elevation of the building; a lighting feature will be used at night to animate the building with the glass pop -up being a key feature, acting as a beacon at the head of the loch."
Gordon Dunne, chief executive of Dunne Building & Engineering, added: "We are delighted to have been awarded the contract to deliver Maggie's Forth Valley and especially proud at being selected for a second time to build a Maggie's Centre following our successful delivery of the multi-award winning Maggie's Glasgow at Gartnavel Hospital in 2011."
The building is expected to be handed over in spring 2016.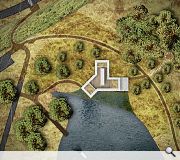 A hearth and kitchen will sit at the heart of the pavilion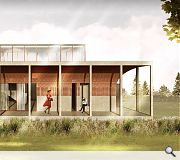 Large sliding windows will open out onto the covered verandah
Back to March 2015