Second Royal High School exhibition fleshes out design intent
March 5 2015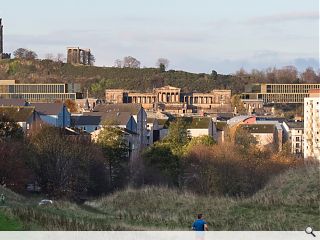 A second public consultation into the proposed transformation of
Edinburgh's Royal High School into a hotel
is to taking place today and tomorrow between 10:00 and 19:00, where the latest thinking behind the high profile project will be outlined.
Organised by Duddingston House Properties, Urbanist Group and Gareth Hoskins Architects the follow-up consultation includes a slew of new artist's impressions depicting a potential future for the crumbling landmark.
Gareth Hoskins commented: "We've created a great deal of space around Hamilton's strong sculptural building so it becomes the central focus. The scale of the new symmetrical buildings either side of the centrepiece draws from Hamilton's architectural language in the use of the stone in a stylised contemporary colonnade. As the former school is the focal point of the amazing stage set of Calton Hill, we've take great care to make sure none of the new elements break the skyline or conflict with the other monuments on this dramatic backdrop."
David Orr of the Urbanist Group, said: "We've responded to what people commented on in the first public consultation and we are keen for people to continue to get in touch with their questions and comments even beyond this current exhibition. While we've had encouragement from some quarters, we also recognise there is anxiety from others so we will continue to gather information and to respond to what people are saying. We understand the stewardship and responsibility that goes with this proposal and want to do something brilliant for the city."
A planning application is expected shortly.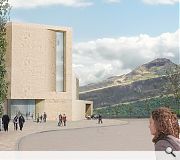 A new public entrance will be created opposite St Andrews House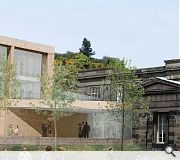 Hoskins is seeking to improve the setting of the former school by clearing a way a mish mash of later additions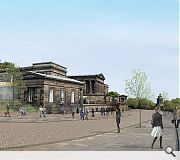 Opinions are being sought on the latest iteration of the design
Back to March 2015