Revised Aberdeen exhibition centre wins council approval
March 5 2015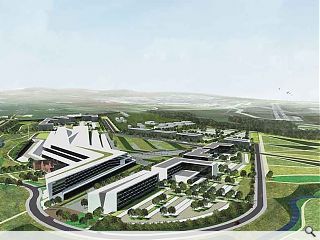 Aberdeen City Council has approved a
£333m exhibition and conference centre in Dyce
after the plans were amended to include twin hotels energy plant and twin hotels as well as an energy centre, anaerobic digestion plant, helping to reduce the council's financial exposure to the scheme.
Under a leaseback arrangement the council would pay £100k per annum for 35 years to the Aberdeen Exhibition & Conference Centre,down from a liability of £54.1m in the previous proposal.
Council leader Jenny Laing said: "The new AECC, which is a key element of the business infrastructure needed to promote Aberdeen as a world energy city and the Energy Capital of Europe, represents a significant, but very affordable, investment for the city.
"This new development will showcase Aberdeen as a global destination for business and leisure tourism by delivering a level of sustainability and design excellence that will be fundamental to strengthening Aberdeen's international profile."
Council chief executive Angela Scott added: "We have worked very hard to reduce the council's financial exposure for this essential new facility to the council by more than £50million in the face of the overall development costs increasing as a result of a number of factors, including inflation and increasing construction and infrastructure costs."
Designed by Sasanbell on behalf of Henry Boot Developments the arena will be located on the site of the Rowett Institute and stretch to 9,000sq/m. it will be delivered alongside a mixed use residential led scheme at Bridge of Don.
Back to March 2015