Tower block archive to document Britain's high rise heritage
February 12 2015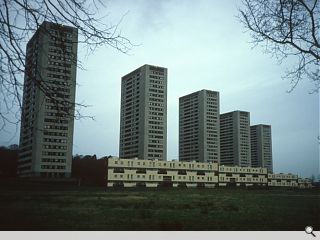 Amidst ongoing demolition of Britain's high-rise heritage the Edinburgh College of Art has begun a project to catalogue every tower block built in Britain in the post war era to populate a freely accessible digital archive.
The Tower Blocks – Our Blocks has been made possible by a £52,900 grant from the Heritage Lottery which will fund digitisation of 3,500 photographs documenting the rise and fall of the typology.
Prof Miles Glendinning, author of many of the featured photographs and head of the Scottish Centre for Conservation Studies at the ECA, said: "We hope this project will help contribute to the ongoing shift in public attitudes towards the post-war Modernist housing heritage, which is fast turning from an object of dislike and alienation into a force for potential community empowerment.
"Council tower blocks were once the most prominent and dramatic legacy of the post-1945 reconstruction drive, but mass demolitions over the past 35 years, still continuing today, have depleted this vast heritage, leaving it obscured or incomprehensible to the public at a time when popular interest in post-war Modernist heritage is sharply increasing."
Amongst the schemes which will be available for view when the project completes in 2017 are Glasgow's notorious Red Road estate, at one time the highest flats in Europe but which are now in process of demolition.
Back to February 2015