BrewDog dusts off Aberdeenshire brewery expansion
February 10 2015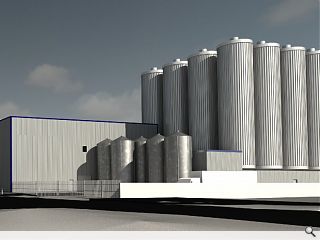 Surging demand for craft beers has prompted Aberdeenshire brewer BrewDog to dust off plans for a £5m overhaul of its Balmacassie base.
The irreverent beer brand is seeking to boost efficiency at its plant, which will be dominated by a clutch of giant fermentation tanks, by providing enhanced spaces for employees.
In a design statement Steven Morris of Taylor Design Services noted: "An initial observation by ourselves was the scale of the new fermentation tanks, however, the capacity levels that are projected fully require this scale of tank. Alternative options were investigated to increase the diameter of the tanks to shorten them, however, to fall in line with the structural restrictions of the tank footprints and also, more importantly, the negative impact on the brewing process when the diameter is increased, impacting on the surface area and optimum settlement within the tanks.
"The frontage of the new phase has deliberately been brought forward to help break a potential monotonous streetscape, whilst not impacting on roads visibility criteria."
The new plant would take the place of an existing recycling centre which will be relocated by BrewDog.
Back to February 2015