Gareth Hoskins details Royal High School vision
February 9 2015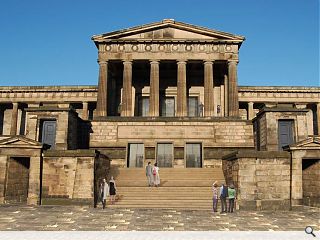 Gareth Hoskins Architects and Duddingston House Properties have laid out theirvision for the
A-listed Royal High School
, a crumbling landmark which has lain derelict in the heart of Edinburgh for the better part of 50 years.
Appointed to the project five years ago the Calton Hill landmark has suffered significant water ingress this winter after thieves broke in and ripped lead sheeting from the front colonnade, allowing water to penetrate deep into the structure of the main facade.
This decline prompted the appointment of Andrew Wright as conservation architect six months ago to look at the heritage side of the development, a role which will see Thomas Hamilton's Royal high School restored for use as a hotel reception space, restaurant, lounges and bar - together with new access points from Calton Hill and Regent Road.
Fortunately the team are in possession of Hamilton's original drawings courtesy of RCAHMS, material which read together with contemporary surveys, will allow the 70s chic interior to be stripped out in favour of something more befitting of the original vision… although the Star Trek style speakers chair survive in some form if the wishes of some visitors is listened to.
Extensively modelled from key viewpoints around the city Gareth Hoskins Architects approach is to place Hamilton's building at the core of a symmetrical ensemble set against Calton Hill. This will necessitate demolition of a number of ancillary buildings, judged to be of detrimental impact on the main building and so allowing two flanking pavilions to be erected to house the necessary bedroom space.
A formal planning submission is expected to be made in March.
Back to February 2015