University of Strathclyde unwraps new look Physics school
February 6 2015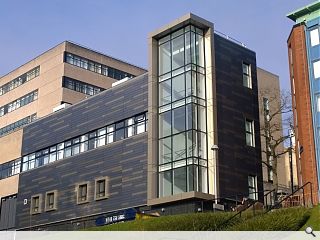 The University of Strathclyde has taken possession of the
newly extended John Anderson building
, incorporating its department of Physics, following a £4.2m refurbishment and extension.
Designed by Hypostyle the new lab space occupies a constrained plot off Richmond Street which it addresses with a feature cut-away stair tower.
To the rear a roof level car park is provided in addition to plant.
Clad in anodised aluminium the build rises from a base of black basalt tiles and is the latest addition in an ongoing estates development strategy which is seeing the institution consolidate its Cathedral Street campus.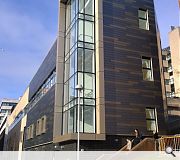 A corner stairwell maximises views from the steeply sloping site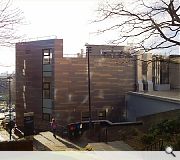 Plant and services are hidden to the rear
Back to February 2015