Consultations begin for Edinburgh Airport 'city'
January 30 2015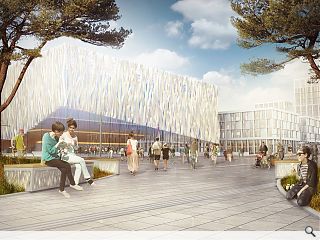 New Ingliston Ltd has submitted a proposal of application notice for the first phase of its proposed International Business Gateway on farmland close to Edinburgh Airport – a joint initiative with Mirray Estates, Frogmore and Salmon Harvester.
The mixed use project has been master planned by 7N Architects and will include a hotel, education campus, retail, office space and up to 2,000 homes, connecting directly to the city centre by tram.
On the cards since 2011 backers of the ambitious 30 year project are keen to capitalise on improved transport connections and
planned airport expansion
to put fresh impetus behind the scheme and secure investment.
In a statement New Ingliston said: "The initial development is intended to be adjacent to the Ingliston Park & Ride and tram halt that serves transportation interchange linking air travel to trams, buses and, through the close proximity to the motorway network to the whole of Scotland by private car.
"We want to create an attractive new city sector, alive for 24 hours a day, 7 days a week, where people can live, work and relax in high quality, contemporary environment on a long term sustainable basis."
A drop-in community exhibition to showcase the plans will be held at the airport's Hilton hotel on 24 February between 13:00 and 19:00.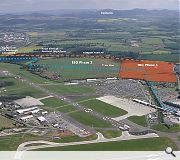 Plans to build a concert venue have been dropped from the latest proposals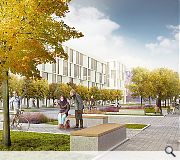 Up to 8m sq/ft of space will be built in the new west quarter
Back to January 2015