Broomhill Primary rebuild plans submitted
January 30 2015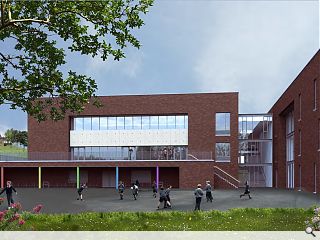 Glasgow City Council has submitted plans to replace the 1950s era
Broomhill Primary School, Hyndland
, with a £5m new build property on Edgehill Road –part of a city wide commitment to overhaul all primary schools.
Occupying a tight 1 hectare plot the building is intended to adopt an 'urban approach' that reflects the scale of surrounding tenements, bringing the bulk of the building out to the street rather than envelope it within a defensive perimeter of playgrounds.
Providing 18 classrooms the school will also offer a hall, gymnasium and drama studio for shared community use with interior spaces arranged around a central atrium.
Designed without a defined front or back owing to the lie of the land, although public areas are given larger window openings with the main entrance overlooked by a large feature window.
In their design statement the council noted: "The atrium is at the heart of the school from which a classroom wing, public wing and playground are all accessed. The simple layout creates a clear delineation between the various uses within the school and creates an orientation aid for the buildings users.
"The strong geometry of the building is created by carving into the form, allowing light to penetrate deep into the plan. The deep shadows that are cast contrast with the strong horizontal lines of the brickwork, which provides detail and texture."
Back to January 2015