New faces adorn walls of Scottish National Portrait Gallery
January 29 2015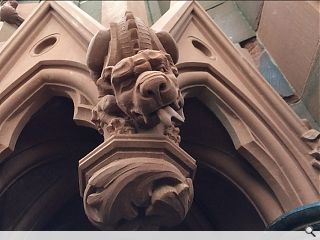 Page\Park architects have put the finishing touches to their
refurbishment of The Scottish National Portrait Gallery
, with a range of new statuary now adorning the walls of the institution.
These include several richly decorated chimera gazing down from the façade and repairs to existing works which had suffered erosion through the years.
It follows a successful 2011 refurbishment of the galleries carried out by the practice designed to increase display space and improve access to upper levels.
In a statement Page\Park said: "We have recently completed a phase of stoneworks at the Scottish National Portrait Gallery. Works included a large hood over a statue of the distinguished Scottish surgeon John Hunter FRS. The hood incorporates a number of intricately carved chimerae."
Stone Engineering carried out the works.
Back to January 2015