National Galleries Scotland discuss Princes Street Gardens expansion
January 29 2015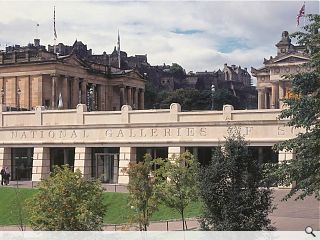 National Galleries Scotland (NGS) are in talks with Edinburgh City Council to purchase a parcel of land overlooking Princes Street Gardens, part of a wider £15m overhaul of the institution.
It would be the largest expansion undertaken by the Gallery since the £30m Playfair extension, delivered in 2004, permitting an existing gallery wall to be pushed five metres out into the eastern portion of the gardens, in line with the existing Weston Link extension, allowing a landscaped public path and terrace to be built.
A Gallery spokeswoman remarked that the work would connect "… the NGS complex more readily with the Gardens and an increased public walkway at the precinct level above, improving the width and amenity of the current north-south pedestrian route between Princes Street, the Playfair Steps and the Old Town."
Gareth Hoskins Architects were appointed to double display space for Scottish art at the National Gallery
last May.
Back to January 2015