Glasgow's Queen Street cements status as prime office address
January 15 2015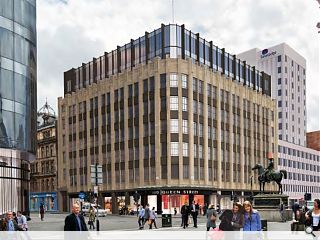 Glasgow's Queen Street is asserting itself as a prime office address with an
application by CDA Architects to refurbish 100 Queen Street
by replacing and extending an obsolete1980s rooftop extension and adding an additional floor.
This will be dressed with bronze coloured metal fins, extrapolating their stone counterparts from the body of the 1950s built offices below to work with the rhythm of the façade and offering an external terrace with views across
Royal Exchange Square
.
The principal entrance on the corner with Ingram Street will also be upgraded by dropping the ground floor slab to create level access, allowing the original building line to be reinstated.
In their design statement CDA said: "The roofline is purposefully crisp, with the vertical fins breaking the parapet, mirroring the crenalated stone parapet below.
"The end bays on both Queen Street and Ingram Street are a more solid metal cladding, matching the 'book end' effect of the existing buildings below."
The Esson Properties project sits across the street from
Cooper Cromar's 100 Queen Street
and an
AHR refurbishment of Charlotte House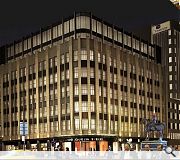 The increasingly dilapidated state of 110 Queen STreet has forced the building owners to act
Back to January 2015