Graeme Massie detail Budapest museum runner-up
January 15 2015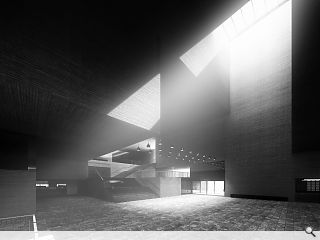 Graeme Massie Architects have detailed their third place entry in an international design contest for a Museum of Ethnography in Budapest, Hungary, ultimately won by Vallet De Martinis Architectes.
Manipulating light to showcase internal environments and artefacts contained therein the scheme sits at the head of a promenade, extending pedestrian routes into its belly via a walkway shielded from the hustle and bustle of the city by a low slung wing of accommodation.
In their design statement the practice said: "The Museum develops a specific architectural character through open dialogue with the city, park and promenade. Each of these conditions is unique, leading to an architecture which is both responsive to its surroundings but also singular in its ambition and expression. The result is a museum which makes sensitive contextual connections but delivers a compelling civic presence by both day and night."
This wraps around a series of external reflecting pools and gardens, overlooked by an observation tower offering expansive city views, a key goal as the design team explained: "The idea of 'landscape' is fundamental to our development of the new museum. In order to physically integrate the building with the park and promenade, the interior is modelled as a continuation of the external landscape.
"A route from entrance hall to observation tower is formed which binds together a complex, and integrated, series of ideas relating to the social and exhibition needs of the museum, the creation of an unfolding architectural promenade and the reduction in energy consumption. The result is an interior which metaphorically takes on the character of a landscape (comprising terraces, caverns, canyons, grottos and a plateau) to create a socially inclusive atmosphere necessary for a successful new museum."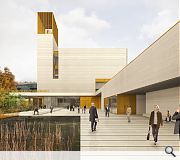 A promenade is framed with the promenade at its head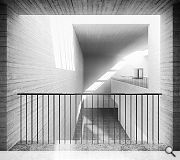 Internal spaces are conceived as a terraced landscape
Back to January 2015