Fresh bid to redevelop Edinburgh's St Margaret's House
December 23 2014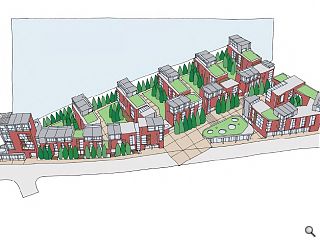 Caledonian Trust have
renewed an application for planning in principle for a 21,500sqm of mixed use development
including residential, retail/commercial, hotel and student accommodation on the site of St Margaret's House, an Edinburgh office block.
In their design statement Michael Laird said: "The proposed tenemental blocks to London Road relate directly to the contextual scale with vertical articulation at each end to allow landmark blocks to be emphasised.
"Height is used to articulate the end block towards the west. This structure is intended for hotel use and would act as an urban anchor for the development, giving an immediate identity and dynamic edge to the development."
Lower ground floor parking will be offered, with landscaped courtyard decks raised above the level of an adjacent railway line.
An urban edge would be established along London Road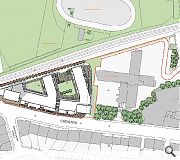 The master plan would reintegrate the enclosed site with the surrounding streetscape
Back to December 2014