Debate over GSA rebuild strategy intensifies
December 22 2014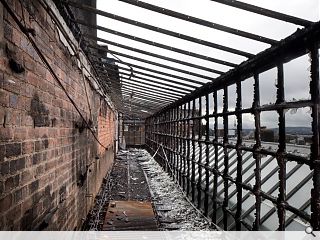 Debate surrounding the restoration strategy for the Glasgow School of Art's iconic Mackintosh designed library has intensified with architects speaking out in favour of a contemporary interpretation as the historic room rather than a 'pastiche' recreation as the school continues its hunt for an architect to oversee the work.
Speaking to the
BBC's Scotland 2014
broadcaster Stuart Cosgrove outlined 'three schools of thought' in regards to the project. "One is a restoration, what is interesting about that is that Mackintosh's correspondence with local craftsmen has been preserved so there is a lot of detail about the making of the building and because of GSA's digital 3d scanning this could be replicated in quite a forensic way.
"A counterargument is that when Mackintosh built it he was at the height of his as an imaginary, innovative, Scottish argument and that's precisely what should happen now. It should be gifted over to that level of innovation.
"A third thought, which is actually really interesting, is that there should be a new building which tells the story of the fire because there are parts that can be encased and preserved."
Weighing into the debate Dunlop outlined his rationale for favouring the second option, telling the programme: "When the fire happened it was immediately considered that we had to fully restore it, over a period of time now we're analysing that and considering whether it's the right thing to do. My own view is that we shouldn't restore it, we'd create a pastiche if we did, we need to create something new and equally as beautiful."
Back to December 2014