High-rise student housing to tower over Cathedral Street
December 8 2014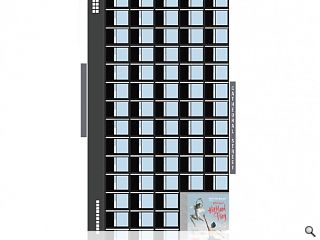 Forrest Furnishing has submitted plans for a
19 floor development of 376 student bedrooms
on the corner of Cathedral Street and North Hanover Street, directly opposite a proposed
M&S store as part of the Buchanan Galleries expansion
.
Designed by Urban office Architects the plans call for demolition of an existing furniture showroom and warehouse with upgraded public realm including stone and granite paving.
Clad in polished concrete panels, aluminium and glazing the scheme would meet the street junction with a prominent advertising hoarding.
No parking provision would be provided but a dedicated drop-off area would be introduced off North Frederick Street with an additional 190 cycle spaces offered.
The plans supplant an earlier consent for planning in principle for a hotel and ground floor commercial space for the corner plot, which the developer opted not to pursue due to market conditions.
Back to December 2014